text.skipToContent
text.skipToNavigation
已添加至购物车
AMC1301QDWVQ1 正在供货
Automotive Precision ±250mV-Input 3µs-Delay Reinforced Isolated Amplifier
---
查看产品文件夹 AMC1301-Q1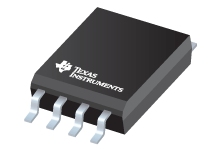 产品特性
Qualified for Automotive Applications
AEC-Q100 Qualified with the Following Results:

Temperature Grade 1: –40°C to 125°C
HBM ESD Classification Level 2
CDM ESD Classification Level C6

Low Offset Error and Drift:
±200 µV at 25°C, ± 3 µV/°C
Fixed Gain: 8.2
Very Low Gain Error and Drift:
±0.3% at 25°C, ± 50 ppm/°C
Very Low Nonlinearity and Drift:
0.03%, 1 ppm/°C
3.3-V Operation on High-Side and Low-Side
System-Level Diagnostic Features
Safety-Related Certifications:

7000-VPK Reinforced Isolation per
DIN V VDE V 0884-10 (VDE V 0884-10): 2006-12
5000-VRMS Isolation for 1 Minute per UL1577
CAN/CSA No. 5A-Component Acceptance ServiceNotice
All trademarks are the property of their respective owners.
描述
The AMC1301-Q1 device is a precision, isolated amplifier with anoutput separated from the input circuitry by an isolation barrier that is highly resistant tomagnetic interference. This barrier is certified to provide reinforced galvanic isolation of up to7 kVPEAK according to VDE V 0884-10 and UL1577. Used in conjunction withisolated power supplies, this device prevents noise currents on a high common-mode voltage linefrom entering the local ground and interfering with or damaging sensitive circuitry.
The input of the AMC1301-Q1 device is optimized for direct connectionto shunt resistors or other low voltage-level signal sources. The excellent performance of thedevice supports accurate current control resulting in system-level power savings and, especially inmotor control applications, lower torque ripple. The integrated common-mode overvoltage and missinghigh-side supply voltage detection features of the AMC1301-Q1 device simplifysystem-level design and diagnostics.
The AMC1301-Q1 device is available in a wide-body8-pin SOIC (DWV) package.
| 数量 | 单价 |
| --- | --- |
| 1-99 | $6.48 |
| 100-249 | $5.28 |
| 250-999 | $4.15 |
| 1,000+ | $3.52 |
可替换包装类型
产品型号
AMC1301QDWVRQ1
包装数量 | 包装类型
1,000 | LARGE T&R
有可用定制卷带
库存

5,624

数量 | 价格 (USD)
1ku | $3.01