text.skipToContent
text.skipToNavigation
---
查看产品文件夹 ISO224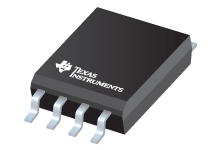 封装信息
封装 | 引脚:
SOIC (DWV) | 8
温度:
M (-55 to 125)
包装数量 | 包装类型:
1,000 | LARGE T&R
有可用定制卷带
查看更多封装信息
产品特性
Offered in High-Grade (ISO224B) and Low-Grade (ISO224A) Versions
±12-V Input Voltage Range Optimized for Isolated Voltage Measurement in Industrial Applications
Overvoltage Input Clamp With 9-kV ESD
±4-V Differential Output Voltage Range With Common-Mode at VDD2 / 2
Low DC-Error Operation (ISO224B):

Input Offset: ±5 mVat 25°C, ±15 µV/°C max
Gain Error: ±0.3% at 25°C, ±35 ppm/°Cmax
Nonlinearity: ±0.01% max, ±0.1 ppm/°Ctyp

4.5-V to 18-V Single-Supply on High-Side
4.5-V to 5.5-V Operation on Low-Side
Safety-Related Certifications:

7071-VPEAK Reinforced Isolation perDIN VDE V 0884-11: 2017-01
5000-VRMS Isolation for 1Minute per UL1577

High CMTI (ISO224B): 80 kV/µs (typ)
All trademarks are the property of their respective owners.
描述
The ISO224 is a precision isolated amplifier with an output separated from the inputcircuitry by an isolation barrier with high immunity to magnetic interference. This barrier iscertified to provide reinforced galvanic isolation of up to 5 kVRMS with anexceptionally long lifetime and low power dissipation. When used with isolated power supplies, thisdevice separates parts of the system that operate on different common-mode voltage levels andprotects lower-voltage devices from damage.
The input of the ISO224 is optimized for accurate sensing of ±10-V signals that arewidely used in industrial applications. The device operates of a single supply on the high-side.This unique feature simplifies the design of the isolated power supply and reduces the system cost.The integrated high-side supply voltage detection feature simplifies system level diagnostics. The±4-V output of the ISO224 allows lower-cost analog-to-digital converters (ADCs) to be used. Thedifferential structure of the output supports high immunity to noise.
The ISO224 is fully specified over the extended industrial temperature range of –55°C to+125°C and is available in a wide-body 8-pin SOIC (DWV) package.
| 数量 | 单价 |
| --- | --- |
| 1-99 | $11.67 |
| 100-249 | $10.20 |
| 250-999 | $7.86 |
| 1,000+ | $7.03 |