text.skipToContent
text.skipToNavigation
已添加至购物车
LP87702DRHBRQ1 正在供货
Dual buck converter and 5-V boost with diagnostic functions
---
查看产品文件夹 LP87702-Q1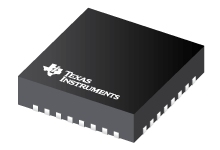 封装信息
封装 | 引脚:
VQFN (RHB) | 32
温度:
Q (-40 to 125)
包装数量 | 包装类型:
3,000 | LARGE T&R
有可用定制卷带
查看更多封装信息
产品特性
AEC-Q100 Qualified for Automotive Applications:

Device Temperature Grade 1: –40°C to +125°C,TA

FMEDA and Functional Safety Manual available to support your ASIL compliant system designs
Two High-Efficiency Step-Down DC/DC converters:

Maximum Output Current 3.5 A
2-MHz,3-MHz, or 4-MHz Switching Frequency
Auto PWM/PFM and Forced-PWMOperations
Output Voltage = 0.7 V to 3.36V

5-V Boost Converter With Bypass-Mode Option:

Maximum Output Current 600 mA

Two Inputs for External Voltage Monitoring
Two Programmable Power-Good Signals
Dedicated Reference Voltage for Diagnostics
Window Watchdog With Reset Output
External Clock Input to Synchronize Switching
Spread-Spectrum Modulation
Programmable Start-up and Shutdown Delays and Sequencing With Enable Signal
Configurable General Purpose Outputs (GPOs)
I2C-Compatible Interface Supporting Standard (100 kHz), Fast (400 kHz), Fast+ (1 MHz), and High-Speed (3.4 MHz) Modes
Interrupt Function With Programmable Masking
Output Short-Circuit and Overload Protection
Overtemperature Warning and Protection
Overvoltage Protection (OVP) and Undervoltage Lockout (UVLO)
All trademarks are the property of their respective owners.
描述
The LP87702-Q1 helps meet the power management requirements of the latest platforms,particularly in automotive radar and camera and industrial radar applications. The device containstwo step-down DC/DC converters, and a 5-V boost converter/bypassswitch. To support safety critical applications. the device integrates two voltagemonitoring inputs for external power supplies, and a window watchdog.
The automatic PWM/PFM (AUTO mode) operation gives high efficiency over a wide outputcurrent range for buck converters. The LP87702-Q1 usesremote voltage sensing to compensate IR drop between the converter output and the point-of-load,thus improving the accuracy of the output voltage.
Programmable start-up and shutdown sequences synchronized to the enable signal aresupported, including general purpose digital outputs. During start-up and voltage change, thedevice controls the output slew rate for minimum output voltage overshoot and inrush current. Thisdevice contains one-time-programmable (OTP) memory. Each orderable part number has specific OTPsettings for a given application. Details of the default OTP configuration for each orderable partnumber can be found in the technical reference manual.
| 数量 | 单价 |
| --- | --- |
| 1-99 | $3.36 |
| 100-249 | $2.94 |
| 250-999 | $2.06 |
| 1,000+ | $1.66 |