text.skipToContent
text.skipToNavigation
已添加至购物车
SN74LVC16373DGGR 正在供货
具有三态输出的 16 位透明 D 型锁存器
---
查看产品文件夹 SN74LVC16373
下载
下载数据表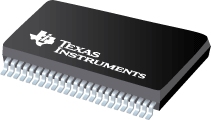 与 74LVC16373DGGRE4 相同 该器件型号与以上所列器件型号完全相同。您可仅批量订购上面所列的器件型号。
产品特性
Member of the Texas Instruments WidebusTM Family
EPICTM (Enhanced-Performance Implanted CMOS) Submicron Process
Typical VOLP (Output Ground Bounce)
< 0.8 V at VCC = 3.3 V, TA = 25°C
Typical VOHV (Output VOH Undershoot)
> 2 V at VCC = 3.3 V, TA = 25°C
Latch-Up Performance Exceeds 250 mA
Per JEDEC Standard JESD-17
Bus Hold on Data Inputs Eliminates the Need for External Pullup/Pulldown Resistors
Package Options Include Plastic 300-mil Shrink Small-Outline (DL) and Thin Shrink Small-Outline (DGG) Packages

EPIC and Widebus are trademarks of Texas Instruments Incorporated.
描述
This 16-bit transparent D-type latch is designed for 2.7-V to 3.6-V VCC operation.
The SN74LVC16373 is particularly suitable for implementing buffer registers, I/O ports, bidirectional bus drivers, and working registers. It can be used as two 8-bit latches or one 16-bit latch. When the latch-enable (LE) input is high, the Q outputs follow the data (D) inputs. When LE is taken low, the Q outputs are latched at the levels set up at the D inputs.
A buffered output-enable (OE\) input can be used to place the eight outputs in either a normal logic state (high or low logic levels) or a high-impedance state. In the high-impedance state, the outputs neither load nor drive the bus lines significantly. The high-impedance state and the increased drive provide the capability to drive bus lines without need for interface or pullup components.
OE\ does not affect internal operations of the latch. Old data can be retained or new data can be entered while the outputs are in the high-impedance state.
To ensure the high-impedance state during power up or power down, OE\ should be tied to VCC through a pullup resistor; the minimum value of the resistor is determined by the current-sinking capability of the driver.
Active bus-hold circuitry is provided to hold unused or floating data inputs at a valid logic level.
The SN74LVC16373 is characterized for operation from -40°C to 85°C.

| 数量 | 单价 |
| --- | --- |
| 1-99 | $0.971 |
| 100-249 | $0.747 |
| 250-999 | $0.550 |
| 1,000+ | $0.393 |