text.skipToContent
text.skipToNavigation
已添加至购物车
TPS61099YFFT 正在供货
0.7Vin Synchronous Boost Converter with 800 nA Ultra-Low Quiescent Current
---
查看产品文件夹 TPS61099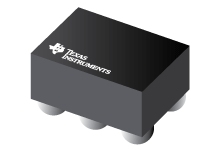 产品特性
600 nA Ultra-Low IQ into VOUT Pin
400 nA Ultra-Low IQ into VIN Pin
Operating Input Voltage from 0.7 V to 5.5 V
Adjustable Output Voltage from 1.8 V to 5.5 V
Fixed Output Voltage Versions Available
Minimum 0.8 A Switch Peak Current Limit
Regulated Output Voltage in Down Mode
True Disconnection During Shutdown
Up to 75% Efficiency at 10 µA Load with Fixed Output Voltage Versions
Up to 93% Efficiency from 10 mA to 300 mA Load
6-Ball 1.23 mm x 0.88 mm WCSP package and 2-mm x 2-mm WSON package
Create a Custom Design Using the TPS61099x With the WEBENCH® Power Designer
All trademarks are the property of their respective owners.
描述
The TPS61099x device is a synchronous boost converter with 1-µA ultra-lowquiescent current. The device is designed for products powered by an alkaline battery, NiMHrechargeable battery, Li-Mn battery or rechargeable Li-Ion battery, for which high efficiency underlight load condition is critical to achieve long battery life operation.
The TPS61099x boost converter uses a hysteretic control topology to obtain maximalefficiency at minimal quiescent current. It only consumes 1-µA quiescent current under light loadcondition and can achieve up to 75% efficiency at 10-µA load with fixed output voltage version. Itcan also support up to 300-mA output current from 3.3 V to 5 V conversion, and achieve up to 93% at200-mA load.
The TPS61099x also offers both Down Mode and Pass-Through operations for differentapplications. In Down Mode, the output voltage can still be regulated at target value even wheninput voltage is higher than output voltage. In Pass-Through Mode, the output voltage follows inputvoltage. The TPS61099x exits Down Mode and enters into Pass-Through Mode whenVIN > VOUT + 0.5 V.
The TPS61099x supports true shutdown function when it is disabled, which disconnects theload from the input supply to reduce the current consumption.
The TPS61099x offers both adjustable output voltage version and fixed output voltageversions. It is available in 6-ball 1.23-mm x 0.88-mm WCSP Package and 6-pin 2-mm x 2-mm WSONpackage .
| 数量 | 单价 |
| --- | --- |
| 1-99 | $1.45 |
| 100-249 | $1.12 |
| 250-999 | $0.82 |
| 1,000+ | $0.59 |
可替换包装类型
产品型号
TPS61099YFFR
包装数量 | 包装类型
3,000 | LARGE T&R
有可用定制卷带
库存

47,734

数量 | 价格 (USD)
1ku | $0.51